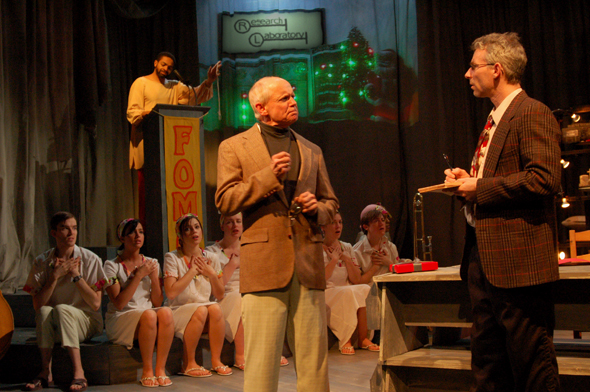 Actors Horace V. Rogers (Bokonon), Daryl Brown (Dr. Breed) and Timothy McCown Reynolds (John) with the cast of CAT'S CRADLE. The projection of our laboratory model can be seen in the background, and the shelves we created with our models on them are slightly visible to the right. Barry (not visible) is behind the shelves, operating a camera that tracks across the models to create the projections.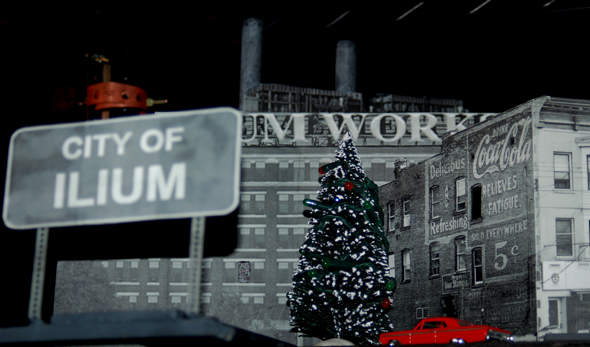 The city of Ilium at Christmastime. All models were designed in black and white, with red and green accents on the Ilium models.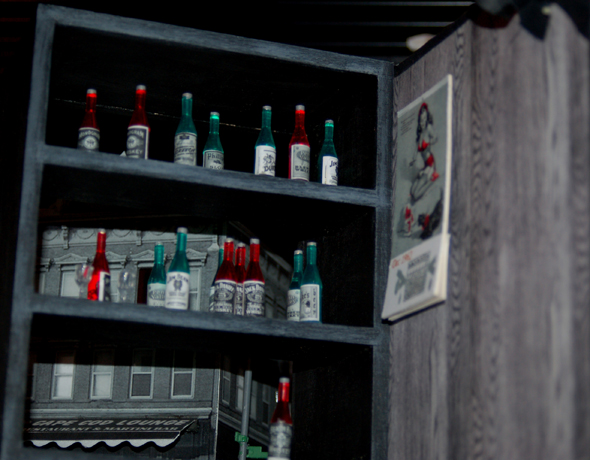 A bar in Ilium.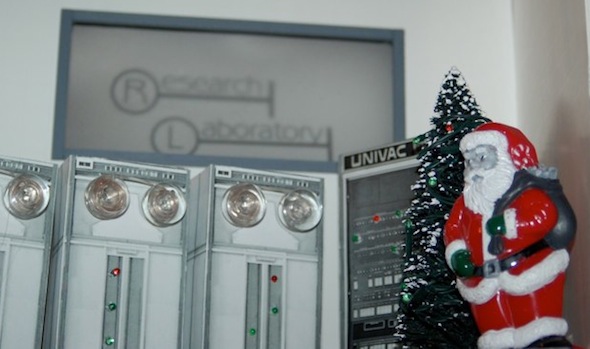 A closer look at the Ilium Research Laboratory.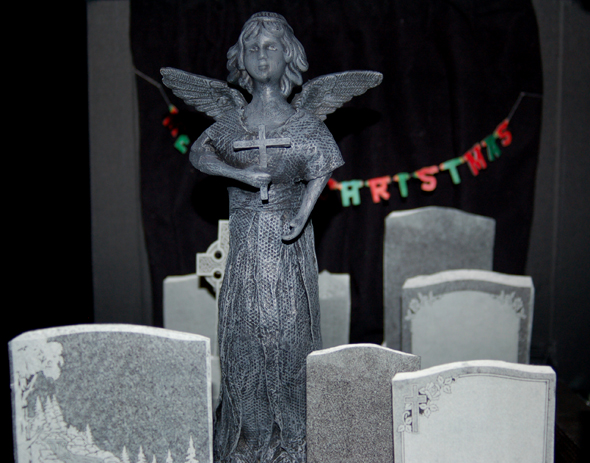 The stone angel statue in the tombstone showroom.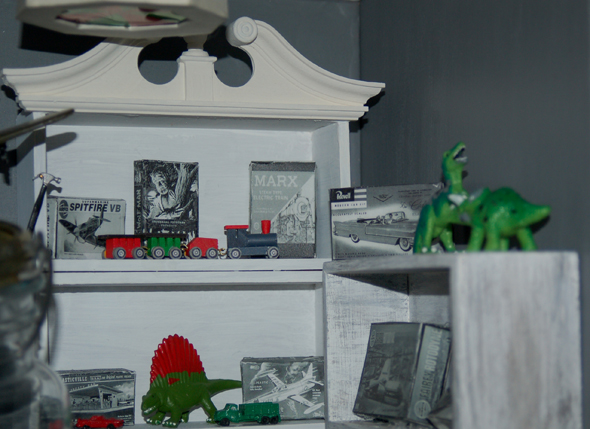 Jack's Hobby Shop.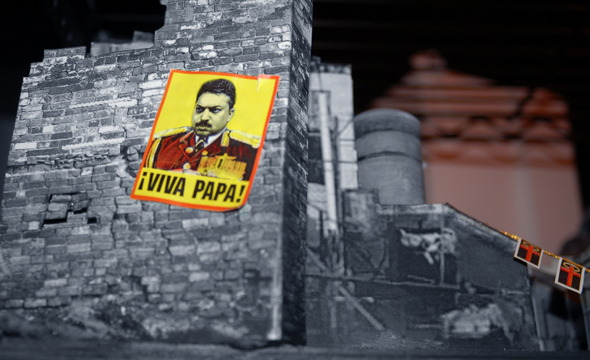 A street in the Caribbean republic of San Lorenzo. San Lorenzo models were also black and white, but with yellow and orange accents.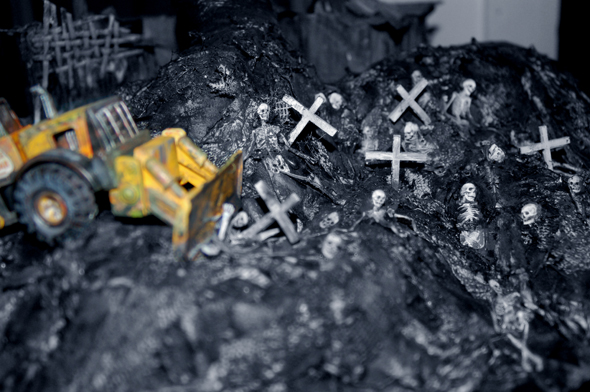 A mass grave filled with San Lorenzo plague victims.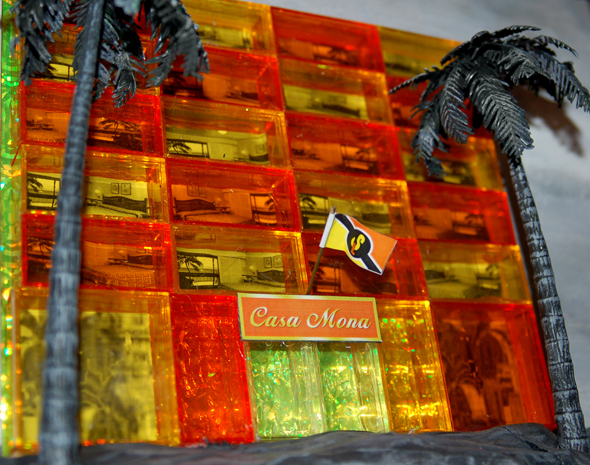 San Lorenzo's glitzy Casa Mona hotel. Evolve also designed the national flag of San Lorenzo that was used throughout the production, which is one of the few things we designed that goes against Vonnegut's description. We needed to match the models' color scheme, and couldn't resist making the visual joke of impaling the "L" on a hook-like "S" (being impaled on "the hook" is San Lorenzo's preferred form of capital punishment).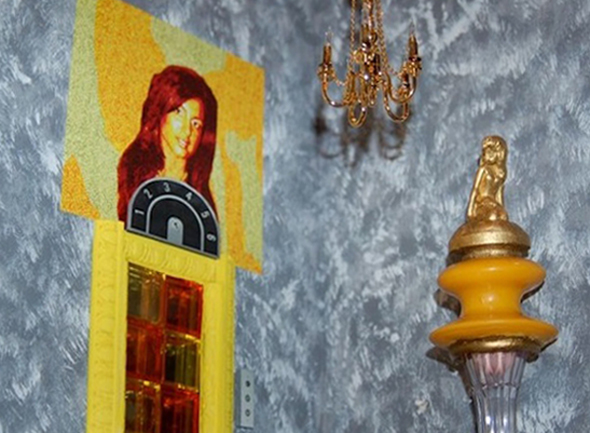 The lobby of the Casa Mona. We tried to include as many details from Vonnegut's novel in the models as possible, both for accuracy and as Easter eggs for fans of the book. One of these was the large mosaic of Papa Monzano's adopted daughter Mona (as portrayed by actress Michelle Rabbani) seen above the elevator door.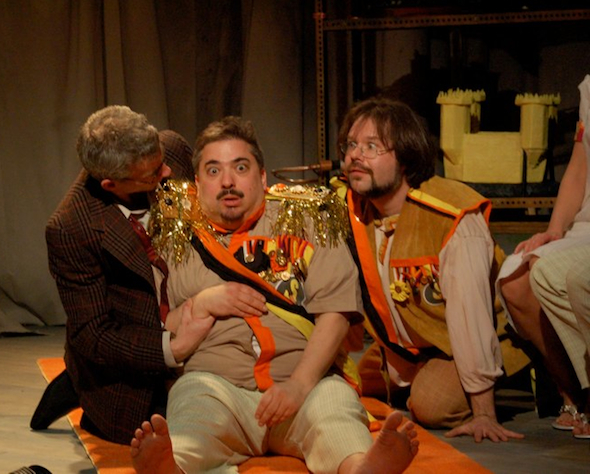 L-R: Actors Timothy McCown Reynolds (John) and Darius Stone (Papa Monzano) performing alongside Barry's psychopathic manchild Frank Hoenniker, an avid modelmaker who, according to the story, built all of the models that appear in the production (actually created by Tanya & Barry together). Behind them you can see Evolve's model of Papa Monzano's castle, fashioned to resemble a giant sand castle and designed to partially break apart when hit by a model airplane puppeteered by Barry/Frank.